10854 Globe Road (Z-52-22)
This requested rezoning would allow an increase in permitted building height from 3 to 5 stories. Proposed zoning removes parkway (PK) and adds parking limited (PL) intended to maintain walking accessibility. Conditions prohibit certain uses and requires pedestrian connectivity.
Existing Zoning: CX-3-PK

The existing zoning is Commercial Mixed Use 3 stories (CX-3) with a parkway (PK). UDO Chapter 3 provides information on all mixed use districts.

Proposed Zoning: CX-5-PL-CU

The proposed rezoning is Commercial Mixed Use 5 stories (CX-5) with parking limited (PL) with conditions (CU). UDO Chapter 3 includes information on all mixed use districts. The proposed conditions are

The following uses shall be prohibited on the property; Dormitory, fraternity, sorority; pawnshop; detention center, jail, prison; self-service storage; adult establishment; motel; inn and hostel.
All building and parking areas shall meet a minimum setback of 50' from Globe Road, and the 50' setback area shall be landscaped in accordance with Sec. 5.3.1.F of the Unified Development Ordinance, provided that driveways, ground signs, and pedestrian access shall be permitted within the setback area.
Direct pedestrian access shall be provided from the public sidewalk along Globe Road to the primary entrance of each building.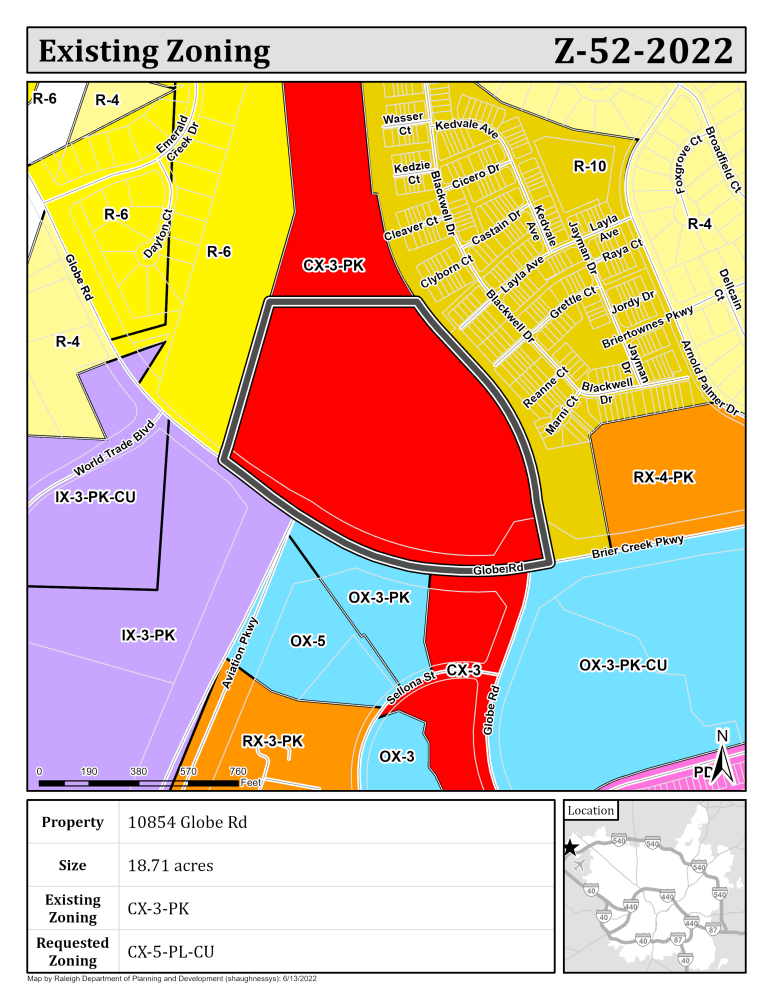 City of Raleigh, NC Survey
City of Raleigh, NC Survey
City of Raleigh, NC Survey
City of Raleigh, NC Survey
City of Raleigh, NC Survey
City of Raleigh, NC Survey
City of Raleigh, NC Survey