Latta University Historic Park Planting Plan
There are many changes happening at the Latta University Historic Park in preparation for construction of Phase One. This website offers details on trees that will be removed and trees we plan to replant once construction is finished.
The Latta University Historic Park (LUHP) has an overwhelming of amount natural beauty including the large grassy open area, and the many large hardwood trees. In a city that welcomes more people everyday, a park with such lovely features can feel like a breath of fresh air in an otherwise urbanized environment.
Unfortunately, at the LUHP there are also areas with invasive plant species, as well as trees that are dying or that are structurally unstable (and dangerous)!
One of the goals developed during the LUHP Master Plan was Enhance the Site's Natural Beauty. City of Raleigh staff are committed to upholding this goal through Succession Planting and Invasive Plant Removal, which are part of the elements of the Phase One development at the park.
Long term stewardship of LUHP will require periodic removal and re-planting of trees to maintain a healthy and diverse canopy. Over time, invasive plant species and trees declining in health will be removed and replanted with native trees that will preserve the site's natural beauty for generations to come.
Below is a map from the LUHP Master Plan that shows the results of an internal Tree Health Assessment conducted by City of Raleigh staff in 2019.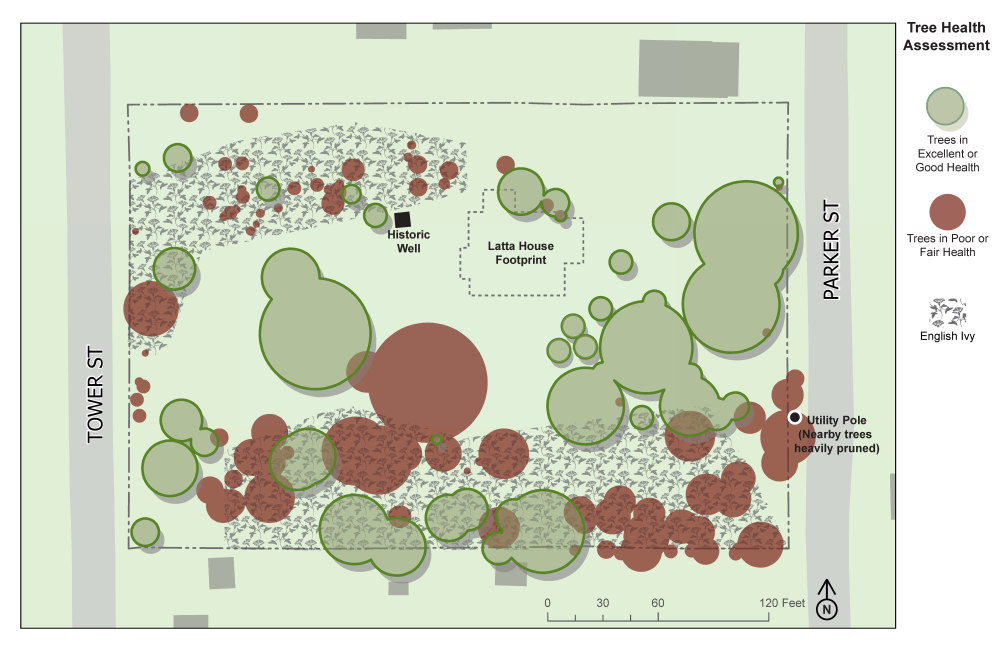 (click to enlarge)
Since the Master Plan was adopted by the Raleigh City Council is March 2020, staff have been hard at work developing the Schematic Design for Phase One development. Part of this process has been identifying specific trees that need to be removed for the health and safety of park users.
Below is a map of dead, diseased, or dangerous trees that we removed in March 2021 before construction of Phase One. This map also highlights trees that will had dead limbs removed, as well as areas where staff & community volunteers will be removing invasive plant species.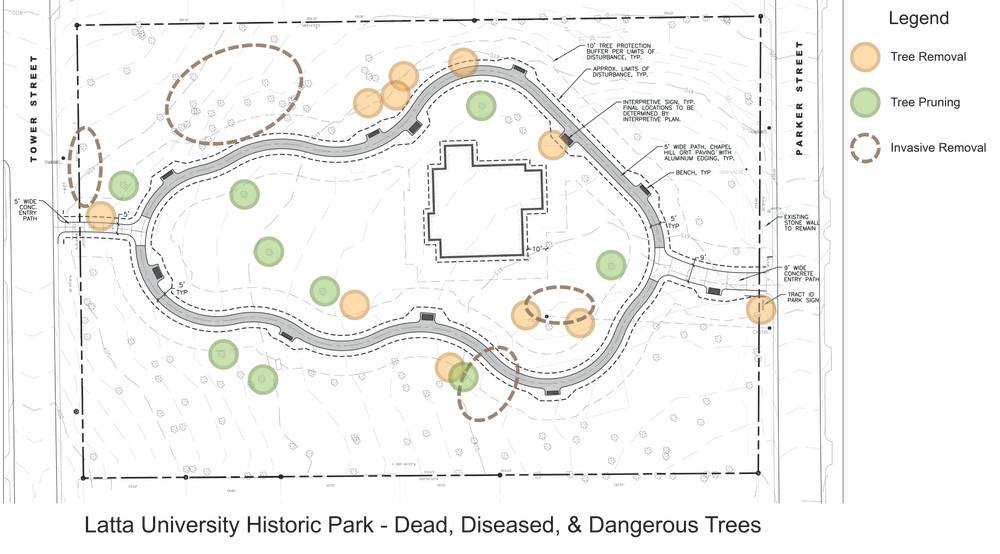 (click to enlarge)
One of the trees that was removed is the large oak tree found near the center of the site. It was identified as having the fungal disease Tubakia during the Master Plan process, and the City of Raleigh Urban Forestry team pruned the canopy to try to facilitate air circulation. Unfortunately, the tree has not improved and has become a hazard to the public.
This tree could easily have been here when this site was still a part of Latta University. It would have been on site when Reverend Latta lived in the Latta House with his family. This tree would have withstood the closing of the University, and would have seen the property sold off all around it. It stood when Reverend Latta left the house with his family, and would have seen the subsequent families that went on to live in that house. It witnessed the fire that destroyed the Latta House. This tree has been through so much on this Historic Landmark, and staff intend to honor it's participation in Raleigh's history.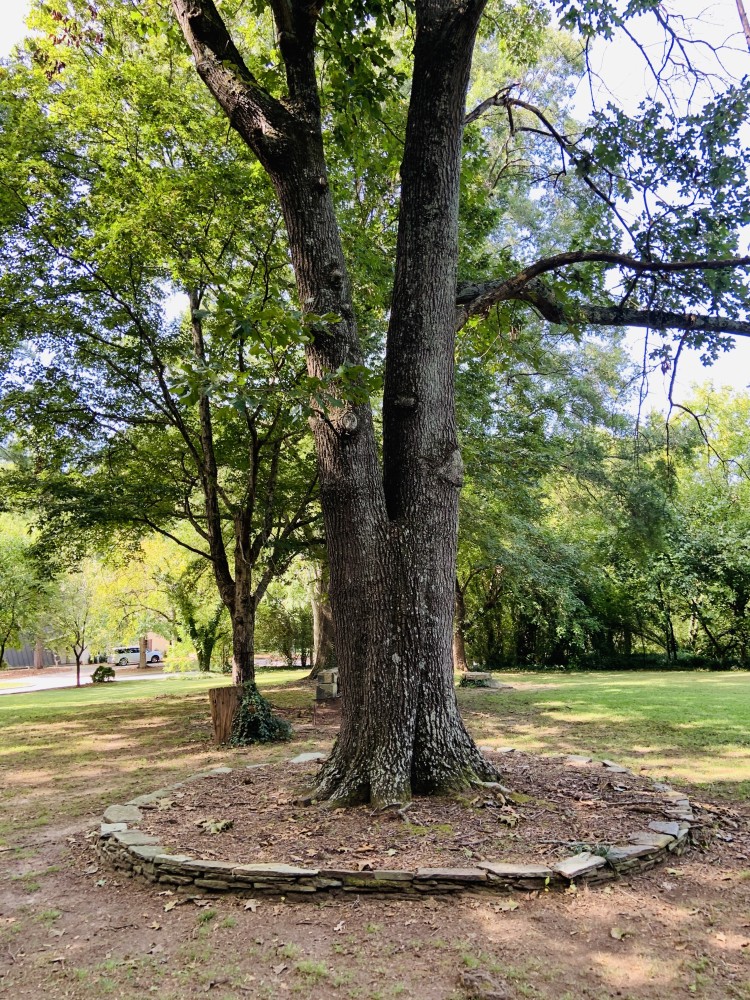 Large Oak Tree - To be Removed
City of Raleigh staff worked with arborists to save part of this tree as it was being removed. The intention is to reuse part of the tree in one of the three pieces of Creative & Interactive Historic Interpretation included in Phase Two. The LUHP Interpretive Plan details suggestions on ways to incorporate the saved wood from this tree within one of these pieces.
When construction for Phase One is complete, we will get to work on replanting the park!
Below is a map with five denoted zones where City of Raleigh staff & community volunteers will focus their replanting efforts.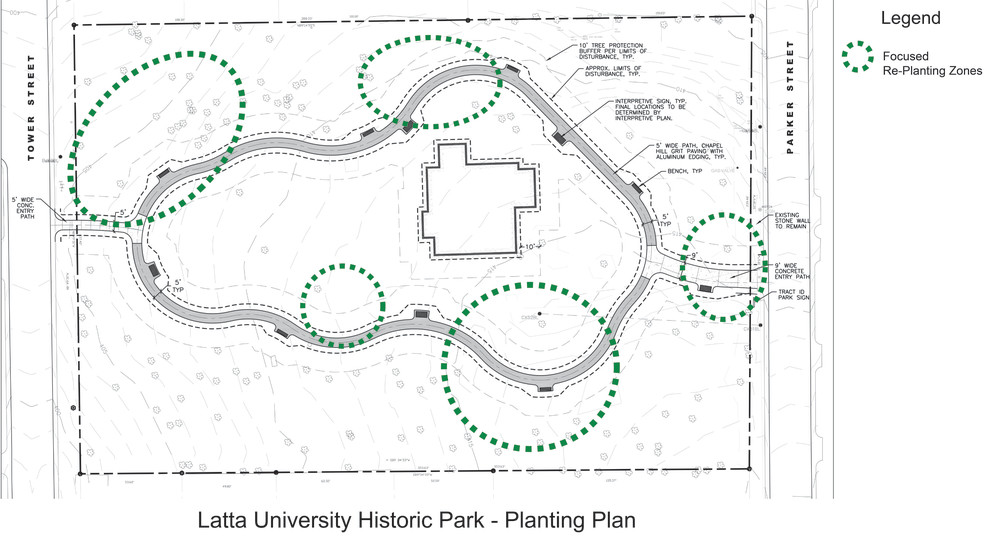 (click to enlarge)
These five zones will be replanted with White Oaks, Dogwoods, Redbuds as well as various native shrubs, perennials, and annuals grown by our in-house horticulturalists. Special consideration will be given to selecting plants that would be historically relevant to the park and Oberlin Village.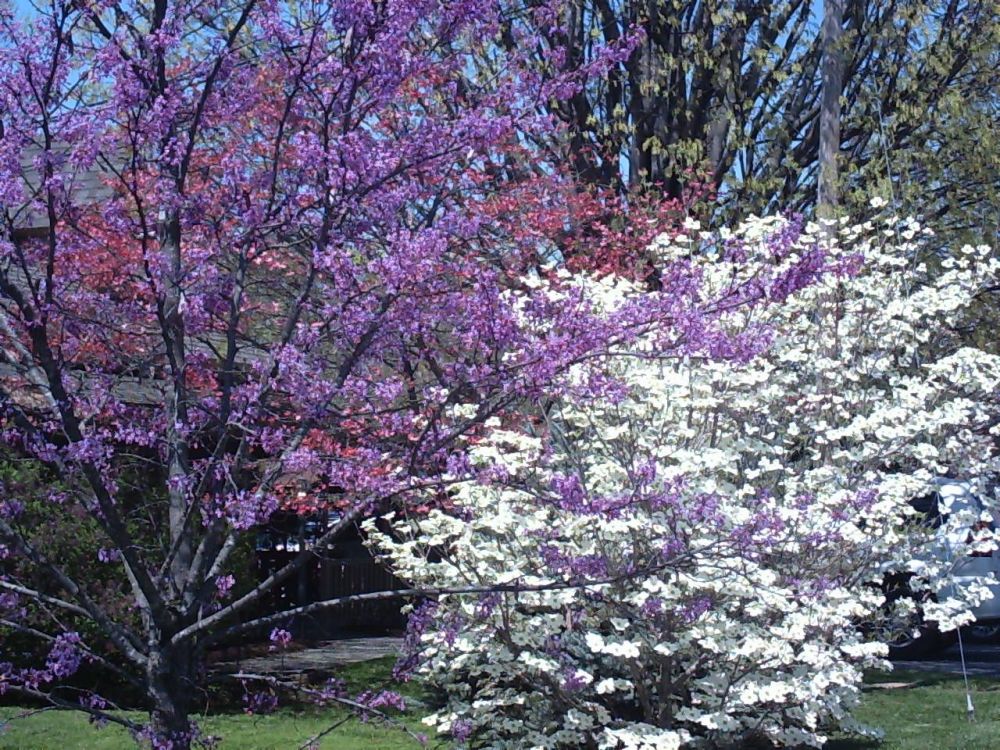 Dogwood & Redbud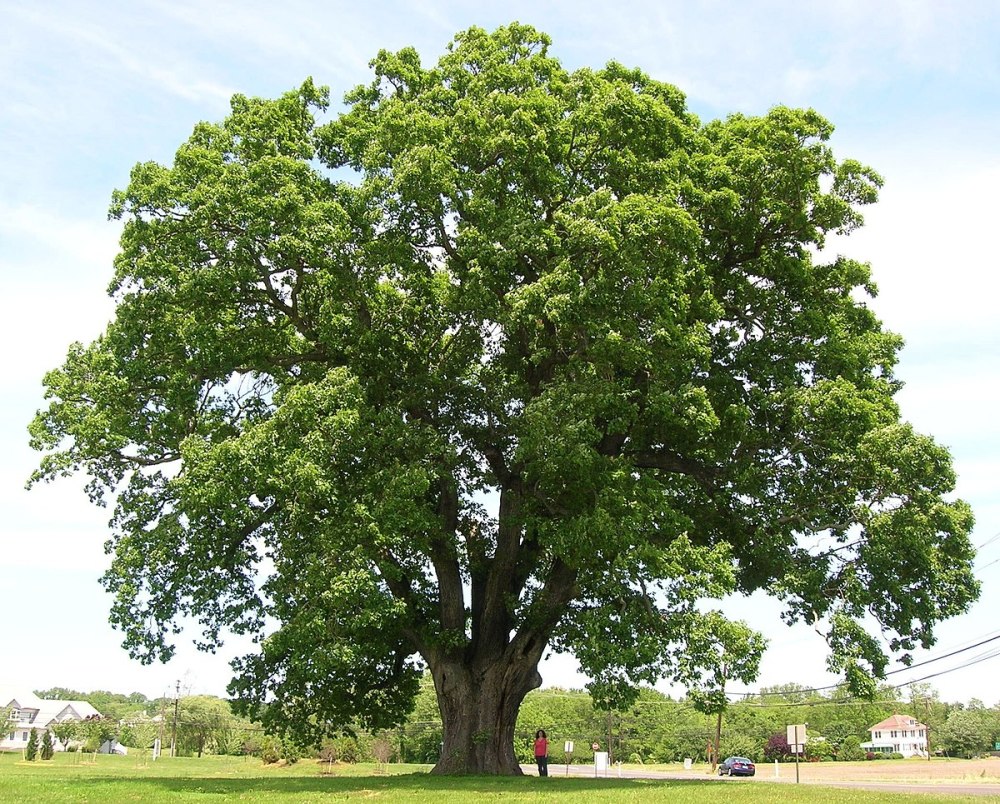 White Oak
City of Raleigh, NC Survey